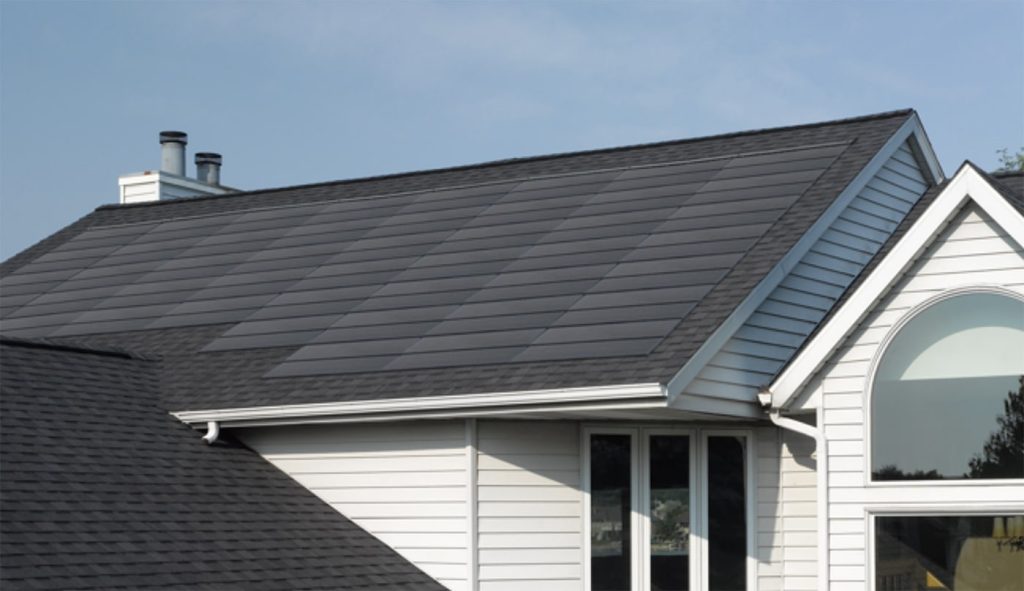 Unique solar shingles combine the benefit of solar power with an aesthetically pleasing appearance integrating seamlessly with Asphalt shingles.
Mansfield, Mass. – Summit Energy, one of the Northeast region's premier solar installers, announced today its Peak Roofing division has launched the Solstice® Solar Shingle System from CertainTeed. The Solstice Shingle System combines solar energy production into a low-profile roofing system that provides a sleek, beautiful, uniform appearance integrating seamlessly with asphalt shingles. Peak Roofing is also one of a few in the nation who are
Certainteed Select Masters in both Solar and Shingles.
"We are excited to be working with Certainteed on this highly innovative breakthrough in the solar shingle class. Solstice combines the best in aesthetics and solar power production in the industry. Many manufacturers have tried but no one has been able to create the seamless integration with asphalt shingles we see with Solstice," said Adam Graber, Director of Business Development at Summit Energy. "The value of solar power to the customer in savings and to the world in helping to reduce climate change are well known drivers for acceptance. However, some homeowners have been reluctant to adopt solar due to the aesthetics. This breakthrough design is addressing that perception head on and is proving to be a real gamechanger."
Solstice Solar Shingles are one of the most electrically and mechanically robust solar shingles on the market today with Industry-leading reliability thanks to the use of patented state-of-the-art technology all backed by a 25 year warranty. The Solstice Shingle boasts market-leading impact and wind resistance for solar shingles with a wind speed rating of 110 mph. They are also rated to be installed in any wind zone including Florida's high velocity hurricane zone. The Solstice Shingle is also watertight due to the water channel and raised fastener locations designed to provide added protection against water intrusion.
Founded by solar veterans Eric Israelsen and Dallin Maw, Summit Energy has expanded its service area steadily and now offers solar and roofing solutions for homeowners and businesses in Massachusetts, New Hampshire, Maine, Vermont, Connecticut, Rhode Island, Utah and New York's Westchester County. Through strategic partnerships with the best in the industry of multiple financial, equipment, and warranty providers, Summit Energy is able to customize solar and roofing solutions to meet the needs of any customer.
About Summit Energy
Based in Mansfield, Massachusetts, Summit offers energy-efficient, cost-effective, industry-leading design, engineering and equipment to power homes and businesses with clean, renewable solar energy. The company was founded on the amazing potential solar had to benefit both people and the planet. Yet, the public knowledge of this renewable form of energy was minimal and clouded with misconceptions. Summit Energy set out on a mission to first, educate homeowners on the financial, environmental, and societal benefits of going solar and second, to create the best customer experience in the industry. To date, the company has helped over 4,000 customers save money on their utility bills, reduce their environmental impact, and make the world a better place.
About Peak Roofing
Based in Mansfield, Massachusetts, Peak Roofing started as a division of Summit Solar, to help customers who were going solar get a new roof. Today, Peak Roofing is a trusted roofing company with over 75 years of combined experience in the industry, specializing in providing top-quality roofing services to its clients. Over the years, the company has expanded its services to include a wide range of roofing solutions, including repairs, replacements, and installations of both asphalt and solar shingles. The company's team of experts is dedicated to ensuring that every project they undertake is completed to the highest standards of quality and professionalism. Peak Roofing is a Certainteed SELECT ShingleMaster™ Residential Roofing Contractor and a Certainteed Select Solar Master Contractor.